2017 GoHawkeye San Juan Trail – 250 Mile Fundraiser Hike
July 15, 2017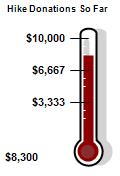 Last summer's Hi Hike fundraiser has inspired another hike. This time,  a door to door five week loop through the stunning San Juan Mountains which I'm calling the  GoHawkeye San Juan Trail. This is not an established trail so I will invent and pioneer it! Over 250 miles on foot, with a total vertical gain/loss of 54,000 feet.
Starting July 23, I intend to smell the flowers and hopefully catch some trout along this high alpine route (avg. elevation 10,400 ft.) while summiting two Fourteener peaks, Wetterhorn (14,017 ft.)  and Uncompahgre (14,309 ft.). This adventure, through five Colorado counties (San Miguel, Ouray, Hinsdale, Mineral and San Juan), will begin in Mountain Village/Telluride with resupply stops in the towns of Ouray, Lake City, Creede, Pagosa Springs and Silverton.
The San Juan Volcanic Field contains approximately 19 calderas, remnants of huge mega-volcanos that were active 30-35 million years ago including the LaGarita Caldera, site of the largest known and most explosive eruption in the world occurring about 27 million years ago. It deposited more than 3,000 cubic miles of lava over most of the southern Rocky Mountains in the Middle Tertiary geologic period.
There will be opportunities for GoHawkeye supporters to donate on a per mile basis ($10, $5, $2, $1 per mile) or Name Your Own amount to help reach our 2017 fundraising goals. 100% of funds raised will benefit adaptive athletes and organizations. I personally will donate my expenses for hiking this trail. Your donation will help fulfill the GoHawkeye Foundation MISSION.
DONATE ONLINE, or mail a check to the GoHawkeye Foundation PO Box 1132 Telluride, CO 81435. Your support will empower and inspire me during this extremely strenuous backpacking adventure.
---
Hike Route Map

Elevation Profile & Route Stats
Total Hike Distance: 250 Miles
Highest Elevation: 14,309′ Lowest Elevation: 7572′ Average Elevation: 10,429′
140 Miles Above 10,000′
Total Vertical Gain/Loss: 54,653'/-54,599′ Max Slope: 52.9%, -37.6% Average Slope: 8.2%, -7.5%
Download KML file for Google Maps or Google Earth HERE
Check Out Last Years Hike Highlights

2016 HiHike Highlights Video created by Craig Stein on Vimeo.
---
Who Do You Hike For?
Long distance hiking provides a unique opportunity to raise money for a charity. GoHawkeye has been raising money for outdoor adaptive sports since 2007 with over $75,000 raised. Read More …