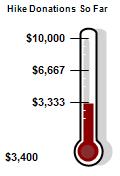 Hawkeye is making plans for another fundraiser hike of the GoHawkeye San Juan Trail. This summer marks the third year in a row that Hawkeye is walking out his door in Telluride, Colorado and into the San Juan Mountains of southwest Colorado. This time, the route has been extended to 300 miles and includes resupply stops in the towns of Durango, Pagosa Springs, Creede, Lake City and Ouray. He will pack a fishing rod and be taking 5 1/2 weeks to savor this high alpine(10,400ft. avg. elevation) loop trail he has pioneered around the famous San Juan Volcanic Field which includes hot springs, gushing streams and waterfalls, and fourteen thousand foot peaks.
Last years hike was an incredible experience and successful fundraiser with almost $10,000 raised to support adaptive sports. Hawkeye was joined at one point by a group of paraplegic outdoorsmen known as the Dirty Roller Mono Posse, who provided him with an ATV tour of the mountains and lakes near Creede Colorado. These men are leading the fight to improve access to the backcountry for people living with a disability. If you would like to read more about his adventure with the Posse, VIEW Hawkeye's journal of the 2017 hike.
The GoHawkeye San Juan Trail(GST) has an incredible 66,000 vertical foot loss and gain through the remote mountain ranges of the San Juan Mountains and 6 wilderness areas including the Weminuche Wilderness, Colorado's largest wilderness with 467,400 acres. The GST combines a variety of established trails, forest roads, abandoned trails and even some bushwacking through four National Forests. This year, Hawkeye will include the Lizard Head Wilderness in the San Miguel Mountains and a portion of the Colorado trail south toward Durango. The GST circumnavigates the vast San Juan Volcanic Field which contain 18 calderas including the La Garita Caldera, near Creede, which is among the largest known volcanic eruptions in Earth's history.
GoHawkeye hike fundraising is one way we raise money to support adaptive sports. Our grant program helps adaptive athletes and adaptive organizations through the purchase of equipment and unique outdoor experiences for people living with a disability. Last year we awarded $45,000 to 13 athletes and 3 organizations. Since 2007, Hawkeye has raised over $80,000 by hiking thousands of miles across this country but it wouldn't be possible without your help! Please consider supporting this fundraiser per mile HERE.  Choose an option and donate $1, 2, 5, 10 per mile, or name your own amount. Hawkeye has hiked over 17,000 miles and has many stories. If you would like to read his complete daily journal of the 2017 hike, go HERE.
Adaptive sports save lives and give hope to those dealing with a life-changing injury or condition! Let's help those willing to fight barriers, challenge themselves and find freedom through recreation and sports. Join GoHawkeye Now! Please DONATE.
---
The GoHawkeye San Juan Trail is a route I invented last summer through the San Juan Mountains of Colorado. It began in 2016 as a 140 mile loop that combined trails, forest roads and included ... Read More
---
I'm looking for adventurous volunteers to share in the camaraderie of this hike. Join me on a stretch, shuttle people to the trail, help me resupply in towns or maybe even host a trailside barbeque. The … Read More
---
Long distance hiking provides a unique opportunity to raise money for a charity. GoHawkeye has been raising money for outdoor adaptive sports since 2007 with over $75,000 raised. You can get started the way I … Read More
---
I've been a long distance hiker for many years. Hiking was especially important to me to relieve the stress of being employed in the department of corrections.  After I retired in 1995, I had the … Read More
---
Please follow and like us: