… Is Hawkeye?

Hawkeye has completed 24 miles of the 2018 GoHawkeye San Juan Trail (GST): 300-mile route.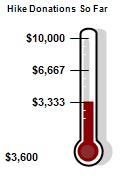 Get the latest updates including videos and images from this loop route. Check out the latest news from the trail below and get all the details about the GoHawkeye San Juan Trail fundraiser hike HERE …
Help us make our fundraising goals … Donate online  HERE …
---
Saturday: July 21, 2018
Day 4 of the GoHawkeye San Juan Trail
Today Hawkeye is hiking between Bollam Pass and Purgatory resort. He was joined yesterday by adventurer Matthew Sweeney. On day two the GoHawkeye Foundation hosted a group hike thru the Lizard Head Wilderness.
Hawkeye's plan is to hitch-hike to Durango for provisions then return to the trailhead, Sunday, July 22, where the route takes him toward Chicago Basin.
---